SSB Electric Steam Boilers: Specifications
SSB Electric Steam Boilers: Specifications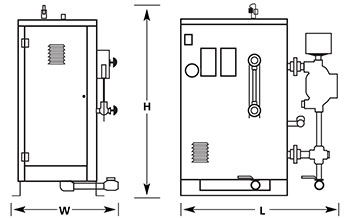 *Single phase available.
#Other voltages available.
##With 50°F feedwater.
All wetted metal parts are stainless steel. Consult Factory for specific wetted parts materials.
Allow 21 inches for heating element removal When ordering: specify model number, KW, volts, phase and optional equipment.
Minimum of 1 meg ohm-cm specific resistivity deionized water feed water must be used for proper & safe boiler operation.
Boiler Model
KW*
Bhp Rating
Lbs/Hr. Steam**
3
Phase
Voltage
***
Total
Amp
Draw
Dimensions
Inches
W L**** H
Shipping
Weight
(Lbs.)
SSB-12*
12
1.22
36.2
208
240
480
34
29
15
20
28
36
260
SSB-18*
18
1.84
54.2
208
240
480
50
44
22
20
28
36
270
SSB-24*
24
2.45
72.3
208
240
480
67
58
29
27
33
45
330
SSB-30*
30
3.06
90.4
208
240
480
84
73
37
27
33
45
340
SSB-36*
36
3.67
108
208
240
480
100
87
44
27
33
45
350
SSB-48
48
4.89
145
208
240
480
128
111
56
27
33
45
365
SSB-60
60
6.12
181
208
240
480
167
145
73
27
33
45
410
SSB-72
72
7.35
217
208
240
480
200
174
87
27
33
45
420
SSB-100
108
11.0
325
208
240
480
284
246
123
28
34
59
675
SSB-135
144
14.6
433
208
240
480
400
347
173
30
36
61
785
SSB-160
158
16.1
475
240
480
379
190
30
36
61
785
SSB-180
180
18.4
542
240
480
434
217
30
36
61
790